Discover more from The Present Age
Parker Molloy's award-winning newsletter of cultural commentary and media criticism for a time of hyper-connected living.
Over 38,000 subscribers
8 Writers on Taylor Swift and the State of Music Journalism
"In the future, we will cut through the sludge of history and the sideview will show a landscape of dinosaur bones under this bright layer of neon and sparkles."
Hello, everyone. I'm really excited about today's newsletter! You'll want to read this one to the end, as it includes some great quotes from 8 of my favorite music journalists. But first, here's where I ask you to subscribe, etc.:
---
The Present Age is 100% reader-supported. To receive new posts and support my work, consider becoming a free or paid subscriber.
---
So! In mid-September, Gannett announced the creation of two new jobs: one reporter dedicated to all things Taylor Swift and one dedicated to all things Beyoncé. Today's newsletter will focus on the Swift job listing.
Here's what the job postings looked like: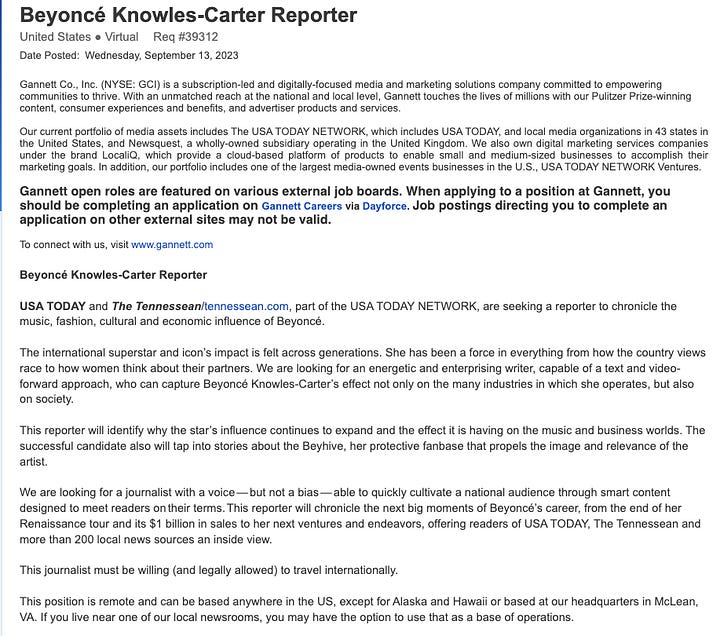 From the Taylor Swift job listing:
Swift's fanbase has grown to unprecedented heights, and so has the significance of her music and growing legacy. We are looking for an energetic writer, photographer and social media pro who can quench an undeniable thirst for all things Taylor Swift with a steady stream of content across multiple platforms. Seeing both the facts and the fury, the Taylor Swift reporter will identify why the pop star's influence only expands, what her fanbase stands for in pop culture, and the effect she has across the music and business worlds. 

The successful candidate is a driven, creative and energetic journalist able to capture the excitement around Swift's ongoing tour and upcoming album release, while also providing thoughtful analysis of her music and career.

We are looking for a journalist with a voice — but not a bias — able to quickly cultivate a national audience through smart content designed to meet readers on their terms. This reporter will chronicle the biggest moments on the next portions of Taylor Swift's tour, offering readers of USA TODAY, The Tennessean and more than 200 local news sources an inside view.
I've saved this post in my drafts since then because I couldn't decide whether or not this was a good thing. On one hand, the job listings were pretty gimmicky (they asked for some sort of audition video explaining why you were the right person for the job, which made it seem like some sort of contest rather than an actual job application) and a little gross (the words "a steady stream of content" will always give me the ick). On the other hand, there's no arguing against the idea that Taylor Swift and Beyoncé are massive stars with truly unique positions in the music industry (as I write this, Swift has 8 of the top 10 songs on Billboard's Hot 100 chart, with 7 of them being re-recordings of songs from an album she released more than 9 years ago).
I would be interested in learning more about the economic impact of Swift's "Eras" tour, which has generated a mind-boggling $5.7 billion in revenue and was cited by the Federal Reserve Bank of Philadelphia1. In 2018, Swift and her team famously strongarmed Spotify into adjusting its notoriously paltry artist payment formula2 to her benefit. And more recently, Swift's decision to rerecord her old records for release as "Taylor's version" for the sake of owning the rights to the masters has major record labels in a bit of a panic. I think there are some exciting stories to be told that fans and everyday news consumers can appreciate. Or, at the very least, these are stories that I find interesting3.
Ultimately, I set the draft aside. Without knowing who Gannett was going to hire or what their backgrounds were, there just wasn't much for me to say. And that brings us to now.
This week, Gannett announced the hiring of 35-year-old journalist and self-described "Swiftie" Bryan West to the role of "Taylor Swift reporter."
He's a legit journalist. One bio I found for him noted that he majored in broadcast journalism at Northwestern University and completed some high-profile internships at NBC News and its TODAY show before moving to Phoenix. He has a bunch of really prestigious awards (Emmy, Murrow, duPont), and he seems great at what he does. He is absolutely qualified for this job, and I think that's important to state unequivocally.
All of that said, I've been wrestling with a few of the details that make me question what Gannett was looking for when it put out this job listing, which said it was looking for "a journalist with a voice — but not a bias."
Here's the video he sent in when he applied:
There is absolutely nothing wrong with being a Taylor Swift fan. Nothing at all.
"I may be a huge Swiftie, but I can report on Taylor objectively," says West in his video submission. My ears perked up when I heard this. "I'll tell you right now three songs I can't stand by her: 'Stay Stay Stay,' 'False God,' and 'It's Nice to Have a Friend.'"
Hmm…
I was also a little taken aback by this quote of his in a Variety article about being a huge Swift fan and also being a journalist who will be covering her:
"I would say this position's no different than being a sports journalist who's a fan of the home team," says West. "I just came from Phoenix, and all of the anchors there were wearing Diamondbacks gear; they want the Diamondbacks to win."
Several sports journalists online were more than a bit confused by this quote. And hey, I wrote about this and homerism just last month:
But maybe this isn't meant to be a "serious" reporting job. Maybe this is just an effort to tap into Swift's massive fanbase. These are rough times for the media world, so it's understandable if Gannett is going for more of a "good vibes only" approach to covering Swift in this role. After all, it's not as though West will be the only person at this giant company allowed to discuss her.
I decided to ask some of my favorite journalists covering music and culture what they thought about all of this. Here are their excellent and thoughtful responses:
I asked each journalist for their general thoughts on this position, the hire, Taylor Swift, or music journalism. Across the board, their responses were thought-provoking additions to this conversation.
Taylor Swift is certainly her own industry, and deserves coverage as such as someone who has continually shifted the cultural landscape and music business in the last decade. That is undeniable. 

Swift's success, and that of Beyoncé, Lana, Billie, Megan, Rosalia, Ice Spice, Cardi B, et al — this slew of talented, exciting women artists who are (rightfully? righteously? BOTH?) dominating pop we are in is an ERA shift, a paradigm shift. In the future, we will cut through the sludge of history and the sideview will show a landscape of dinosaur bones under this bright layer of neon and sparkles. Which is deserving of historically astute, feminist, and journalistic reporting and criticism.

One would assume if that's what they want they'd be announcing they'd lured Caryn Ganz from the Times -- a savvy "prestige" hire.

The nature of celebrity journalism in 2023 is that publications play nice, and pray for the forever-elusive access. It's the one move they've got, often dictated by someone [in the] C-suite, not someone in the trenches.
Check out Jessica's most recent book, The First Collection of Criticism by a Living Female Rock Critic, as well as her award-winning documentary, Women Who Rock.
Steven Hyden -
Uproxx
If you're going to hire a reporter to cover Taylor Swift — and I actually think she's a big and important enough star to warrant that, particularly in Nashville — then you should treat her like a multinational entertainment corporation that has a profound influence on worldwide popular culture. Like Disney or Apple. Because that's what she is! I don't know anything about this person, but based on his early comments he doesn't seem like that kind of reporter. Maybe I'm wrong. Maybe he won't just be writing glorified press releases for Taylor Swift, Inc. But the world does not need more non-critical Taylor Swift coverage. Especially from a daily newspaper that probably isn't attracting readers under the age of 50 in significant numbers. (I used to work for Gannett a million years ago and that already was true back then.)

I actually feel like a reporter who covered Taylor Swift with seriousness and rigor, and generated genuine scoops that revealed new information about an artist with bulletproof PR, would actually move the needle way more than a writer inclined to handle her with kid gloves. I'm not sure if this person is approaching the job that way. His point about sports reporters seems especially wrong to me: Even if they're "fans" of the local team, those writers are still inclined to report on all the bad things happening on the field and in the locker room because that's the definition of news. And guess what? The sports fans in the market want to know that stuff! It's compelling. So much dialogue about Taylor Swift right now is dull as hell because it's all going in one direction. I'm not sure this person will actually add anything new to the conversation
Steven has written a bunch of books, but I'd like to personally recommend "This Isn't Happening: Radiohead's Kid A and the Beginning of the 21st Century."
Taylor Swift is an enormously influential and consequential cultural figure and celebrity who should be covered by music journalists. But making her the subject of a reporter's beat sounds like a money-making, click-baiting strategy concocted by folks who don't give a crap about the distinction between a "fan" and a journalist. The words "fan" and "journalist" do not belong in the same sentence, as any Medill journalism grad should know.

Not that I'm opposed to the idea of scrutinizing one of the biggest pop stars on the planet more incisively. Swift clearly should be the subject of a great business story, which I have yet to read. She's an artist of stature who isn't afraid to stick it to the music industry that in many ways made her – while also profiting enormously from her success. I also would love to see an insightful piece about how she sees herself as an artist, one who is often viewed in purely commercial terms. How does she measure success? If one of her records would fail to sell, would that represent failure?

She's great at managing her career and presenting a pristine image to the public and her adoring fan base. The mainstream media to a large extent has been complicit in that rise. She doesn't give a whole lot of interviews, and those she does submit to are largely conducted by hand-picked softball-tossers. Reviews of her albums and concerts by the biggest publications have generally brimmed with praise rather than insight.

I'm not sure assigning a beat report to full-time Taylor Swift duty will counter that track record. How much will the journalism be diluted by the need to maintain access? How will this beat avoid becoming another glorified public-relations vehicle for an artist who has already conquered the world a few times? Is it only a matter of time before the new Taylor reporter authors an artist-authorized "behind the scenes" best-seller? And what will the business relationship be between Gannett and the Swift franchise and will that relationship be detailed alongside each "news" story by the new beat reporter?
Check out this episode of Sound Opinions that talks about Swift.
I certainly think the phenomenon of Taylor Swift merits a good amount of news coverage, although perhaps not quite as much as it gets mind you. To be frank I am the type of aging punk guy who one might expect to be salty about this, but I honestly don't care all that much. It's easy to point to this sort of thing as some kind of new low for journalism, but it really feels like the inevitable point that we've been heading to for a decade or more. Music journalism is an exceedingly rare thing now. It's all largely promotional and there is very little room for actual criticism, meaning of the art itself, never mind digging into the shady business and labor practices of labels and big artists, many of whom, like Swift, are veritable industries unto themselves. 

I was just thinking about the news this morning that Spotify is going to stop even bothering to send the pitiful royalties owed to artists who have under one thousand streams a year. That might not add up to much for any of the small bands, but in aggregate that is a lot of money that's just going to be given to the bigger artists, which is a metaphor for how we cover lesser known musicians in the press as well.

Would I like it if bigger mainstream news outlets covered undiscovered music regularly again? Of course. I cannot believe there was a day when I would file a couple record reviews and live concert reviews in newspapers and magazines a week. We had no idea how good we had it. 

But now, as with so many other things, and how it has sort of always been in underground music, the answer to this consolidation is to look to the people who really care. There are so many countless DIY bands and DIY websites and newsletters and local scenes made by and promoted by people who really are invested in new and exciting music. People just might have to work a little harder to seek it out, but it's all still there if you want it. It always was. 
Luke's new book A Creature Wanting Form is available now. 
Dan Ozzi -
I do think that Taylor Swift fandom inherently comes with some degree of brain rot. No disrespect to my Swiftie friends but I don't know anyone who enjoys her music a normal amount, without also expressing cult-like symptoms. And that's fine. It's cool to like things. The problem is, that mentality has also been adopted by the large majority of music journalists covering her, preventing any balanced or nuanced coverage. Look at Rolling Stone. Every time she releases an album, the site becomes indistinguishable from a Taylor Swift fanfic blog written in the cringiest idol-worshipping yas kween psychobabble. So when I heard about this Gannett reporter position, the optimist in me hoped it would be geared towards covering the bigger picture of Taylor since she is essentially running a business the size of a Fortune 500 company and is subject to scrutiny. Maybe they would hire a reporter who could do investigative work on the scale of her financial dealings, her impact on the live music ecosystem, whether or not she has murdered anyone in cold blood etc. But instead it looks like they're going the fanfic route. Which I guess makes sense since it's easier than being even remotely critical and inviting an army of Swifties to threaten your family, which they are prone to do.
Check out Dan's most recent book, "SELLOUT: The Major Label Feeding Frenzy That Swept Punk, Emo, and Hardcore (1994-2007)."
JJ Skolnik - Writer and Musician
Given the dire state of media overall and the devalued state of musical criticism, this move by USA Today isn't shocking in the least — it's a sad portrait of where we are currently. It seems like every day we lose a media outlet, or there are mass layoffs — jobs cut, places where people could be covering a wide variety of music and other arts. Instead, we have a special position created as fan service for one of the most covered artists on the planet. Who suffers? Everyone.

(The fans aren't even buying it. While this position was clearly created to represent the fan voice, Swifties seem to unanimously think this guy sucks and that his performance of fandom is inauthentic - the quote tweets and responses on the announcement are a mess.)

Part of that devaluing of criticism has been the idea that critics are no longer needed because fans can communicate with their favorite artists directly on social media. This is a completely ignorant position; the two reasons criticism is important are discovery (writing about artists you might not know about already) and context. This guy isn't able to do any of that, and he seems to have been set up for failure from the very premise of his job. If this is the future of media criticism, the only jobs left - we're doomed.
Check out JJ's band Daddy's Boy. (Also, JJ was recently laid off and is currently looking for work.)
Niko Stratis -
I question the need for a Taylor Swift reporter in a media landscape that is already overrun with mentions of her, where she is needlessly shoehorned into innumerable cultural conversations. I'm of two minds on this. First, it's fair to say that Taylor Swift is a massive industry within herself, and I'm certain if someone was to actually look into the financial radius of a Taylor Swift tour, you could probably see a local impact on her as a phenomenon. That brings me to point the second, in that she is also someone with a legendarily rabid legion of fans that act in what they perceive to be her best interest. Anyone who has ever written about Taylor Swift, especially in a critical sense, is hesitant about it. I reviewed Midnights for the Globe & Mail here in Canada, and I kept a cautious eye on my inbox for about a year after it was printed. 

So now they've hired a "Taylor Swift reporter" for USA Today. And there are lots of takes floating around the internet about it. It is very telling of the modern state of music and cultural journalism that they created a role SOLELY to report on the world's most clickworthy pop star and filled that role with a white guy in his mid-30s who doesn't appear to come from a cultural criticism background. If there was ever a succinct critique of the whole farce of this position, it's that Variety had an exclusive on his hiring. Most people are losing their jobs or in fear of being downsized and as cultural criticism – especially cultural crit that comes from under-represented and marginalized voices –  has been devalued and stripped away, Variety magazine has an exclusive look at the bland facade of the Taylor Swift reporter. 

It feels cheap, like a marketing ploy from a thousand angles that adds up to nothing of value. Bryan West, the man they hired to report on any and all things Swift, comes across as much more of an eager fan than someone who will take this role and make it something worth reading. 

It just makes me wonder what we hope to get out of cultural conversations anymore. The most interesting work, to me, are pieces by voices that will take these stories and wring something new from them, some new blood for tired print that will give us a new and unique perspective. There are interesting stories to tell in the Taylor Swift ecosphere, like the New Yorker piece from September about listening to her in prison. But that demands we get someone telling stories about her that brings an outside or unique perspective to the world that orbits her work. Simply reporting that she continues to be fabulously wealthy and internationally beloved doesn't move the needle. 

Take his mention in the Variety interview that it's no different than being a sports reporter who wants the home team to win. That's not journalism, that's just PR. and now for Ganett media and their 200-some odd dailies, we will have a paid Taylor Swift PR shill. 

Meda is in a state of crisis and writers – especially those that don't have legacy positions or the right kinds of contacts to ensure a steady flow of work and reliable income  – are struggling in the face of it. To see a job like this, especially a cultural reporting job, going to a voice that has already been overrepresented for so long is frustrating. We just got done talking about the Jann Wenner of it all, and yet…here we are at a familiar juncture.

To say nothing of the lack of available criticism space in legacy media to write about anyone who isn't Swift or along her lines of fame and fortune. There's little opportunity to write about emerging scenes, underground work or the music you may be missing if you're not careful. Ganett was never going to make space for that work either, but it just reminds that mainstream cultural criticism has boiled down to nothing but an arm of a promotional machine for the established and wealthy, with little interest in anything but. 

My hope, my dream, is that we can use this as a launch pad for this kind of conversation. Look around at the media landscape and ask ourselves what we can do better, what voices we can uplift and highlight and how we can do the hard work to ask for better that continuing to do PR for the wealthy and famous of the cultural world. 
More of Niko's work can be found at Paste Magazine. Here are two of her recent columns that are definitely worth checking out (1, 2).
Josh Terry -
For most of the past decade, pop superstars have dominated the attention of both the music press and people who read music journalism. The eyeballs a publication gets covering an under-the-radar act are negligible compared to how many read about the biggest names in music. There's a shift from music journalism as a vehicle for discovery that uncovers vibrant local communities to music journalism that breathlessly hypes uber celebrities who consistently top the charts. This is an undeniable fact of the industry and it's the reason why outlets that historically covered indie artists have devoted a significant chunk of editorial to these massive stars. 

It's no shock that Gannett, a company that's decimated local newsrooms, laid off hundreds of hardworking reporters, left vital positions unfilled, and started writing shoddy AI-only articles, decided to list open arts positions solely devoted to reporting on Taylor Swift and Beyonce. That's where the clicks are. Those artists have highly motivated, mobilized, and endlessly devoted fans who will read whatever is written about their favorite celebrities. They will also harass and bully journalists who dare to write something not entirely deferential about them. There is no universe where this company hires a writer who will report critically on these celebrities and dissect their inescapable cultural ubiquity. They need a fan because they need to court these artists' fans to hit their traffic goals. 

In my decade-plus of writing about music for publications, it's the most dire it's been industry-wide. The traditional routes to make a living in this field are drying up. Freelance rates are declining, there are few if any open staff positions, publications are folding left and right, and layoffs are rampant, especially important arts critic positions that will likely never be filled again. I don't want to write off the journalist who accepted that position. I wish him well. I can't imagine the tightropes even a Swiftie would have to tread to do this job well managing solid, critical journalism that keeps the stans and your bosses at Gannett happy. That said, I do think there's value lost when massive celebrities take up all the air. 

It's harder and harder for journalists and artists to make a living in 2023. What's the value of having writers whose sole responsibility is to devote more (likely sycophantic) pages to these already-covered figures? Where do readers go if they want to read about what's happening in their own arts communities? What happens to the great art that will go uncovered? Culture always thrives in the underground and festers at the top.
Thanks for reading, and a special thanks to Jessica, Steven, Greg, Luke, Dan, JJ, Niko, and Josh!
Parker
1
"Despite the slowing recovery in tourism in the region overall, one contact highlighted that May was the strongest month for hotel revenue in Philadelphia since the onset of the pandemic, in large part due to an influx of guests for the Taylor Swift concerts in the city."
2
To be clear, Spotify is still ripping off artists. The point is that Swift is a big enough powerhouse to bring the company to its knees.
3
I majored in [deep inhale] Arts, Entertainment, and Media Management: Music Business [gasping for breath] in college. My first journalism gig was as an editorial intern at Pitchfork, I interned at a now-defunct record label (R.I.P. Flameshovel Records, you were great), and I worked for an artist management company fresh out of college (my former boss manages artists like Andrew Bird and
— also, if you can spot me in
this music video of Andrew's
, I'll give you a prize or something). So music and stories about the industry have always had a place in my heart.