Discover more from The Present Age
Parker Molloy's award-winning newsletter of cultural commentary and media criticism for a time of hyper-connected living.
Over 38,000 subscribers
After 9/11, Fear Won. Let's Not Repeat That Mistake.
It's easy to adopt "with us or against us" stances, but it's rarely productive.
Hi readers. Parker here.
We can't let fear get the best of us.
I was 15 years old on September 11, 2001, and I was just starting to take an interest in politics around that time. The terrorist attacks that brought down the World Trade Center towers and thousands of innocent American lives were horrific and marked a dark day for humanity. In the days that followed, videos of the attacks played on a loop. The world mourned the lives lost at the hands of terrorists, and President George W. Bush vowed to "rid the world of evil-doers."
Okay. That sounded reasonable to my 15-year-old self, but what followed was anything but a surgical targeting of "evil-doers." Hatred, fear, and paranoia built up around the country. The Bush administration pushed Congress to expand the president's powers, legalize spying on American citizens, and cut a blank check to fight a "War on Terror." Congress, with both Democrats and Republicans, were nearly unanimous in their willingness to do all three.
---
The Present Age is 100% reader-supported. To receive new posts and support my work, consider becoming a free or paid subscriber.
---
Nine days after the attack, Bush addressed a joint session of Congress, warning the world, "Every nation, in every region, now has a decision to make. Either you are with us, or you are with the terrorists."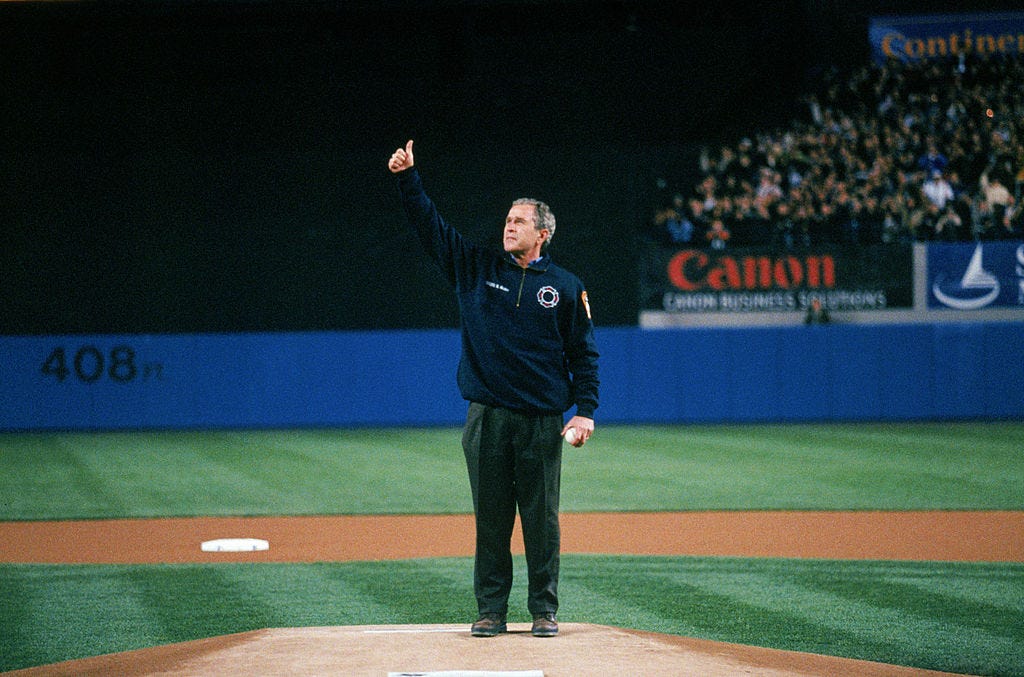 American Muslims were harassed, profiled, and treated as suspected terrorists. Hate crimes against them skyrocketed in the aftermath. From a 2002 Human Rights Watch report:
The September 11 hate crime backlash confirmed the fears of Arabs and Muslims in the United States: a major terrorist attack gave rise to a nationwide wave of hate crimes against persons and institutions perceived to be Arab or Muslim. Unlike previous hate crime waves, however, the September 11 backlash distinguished itself by its ferocity and extent. The violence included murder, physical assaults, arson, vandalism of places of worship and other property damage, death threats, and public harassment. Most incidents occurred in the first months after September 11, with the violence tapering off by December.

Both official and community-based organization tabulations derived from self-reported incidents and newspaper accounts clearly demonstrate the severity of the September 11 backlash. The FBI reported that the number of anti-Muslim hate crimes rose from 28 in 2000 to 481 in 2001, a 17-fold increase. The ADC reported over six hundred September 11-related hate crimes committed against Arabs, Muslims, and those perceived to be Arab or Muslim, such as Sikhs and South Asians. Tabulating backlash incidents ranging from verbal taunts to employment discrimination to airport profiling to hate crimes, CAIR reported 1,717 incidents of backlash discrimination against Muslims from September 11 through February 2002.

State and local agency data provide additional perspective on the extent of the violence. In Chicago, the police department reported only four anti-Muslim or anti-Arab hate crimes during the year 2000; in the three months of September through November 2001, the number was 51. In Los Angeles County, California, there were twelve hate crimes against persons of Middle Eastern descent in the year 2000, compared to 188 such hate crimes in 2001. In Florida, the attorney general directly attributed the 24.5 percent increase in the total number of hate crimes registered for the year 2001 to September 11-related bias.
The anti-Muslim sentiment didn't go away, either. Manufactured outrages like the backlash to the "Ground Zero Mosque" (which was not actually a mosque and not actually located at Ground Zero) would continue for years. Barack Obama was accused of being a "secret Muslim" during his campaign for president in 2008, a show of the type of toxicity that was associated with Muslims during his run. His opponent, John McCain, received kudos for rebuffing a supporter who accused Obama of being "an Arab," with a correction that Obama is "a decent family man [and] citizen that I just happen to have disagreements with on fundamental issues," a well-meaning statement that itself was still a suggestion that Arab and "decent family man and citizen" are incompatible.
Donald Trump called for a "complete and total shutdown of Muslims entering the United States" during his presidential campaign in 2015. In 2016, Trump tried to pander to LGBTQ people by vowing to protect them from "the violence and oppression of a hateful foreign ideology," by which he meant Islam. A month earlier, Trump tweeted, "Appreciate the congrats for being right on radical Islamic terrorism," after a Muslim killed 50 people at a Florida LGBTQ nightclub. As president, Trump pushed to change the focus of the government's Countering Violent Extremism program to focus exclusively on Muslims.
Did some American Muslims commit crimes? Of course. Did a handful commit acts of terrorism? Absolutely. But you can swap virtually any group into that statement and find it to be true (i.e. Do some white people commit crimes? Of course. Have a handful of them committed acts of terrorism? Absolutely.)
But building up the impression that one group is predisposed to violence (see: Breitbart's infamous "Black Crime" tag or the Trump administration's publication of a "weekly list of crimes" committed by undocumented immigrants) is all part of the dehumanization process. The overwhelming majority of mass shooters are white men, yet no one debates whether they, as a group, should to be oppressed. Meanwhile, after one mass shooter may have been transgender, Trump announced that if reelected, he would launch a government investigation into whether "transgender hormone treatments and ideology" increase the risk of violence. It's all the same bigoted game.
I am worried that we, as a society, are at risk of walking into the same exact post-9/11 mistakes.
On October 7, the terrorist group Hamas carried out an attack on Israel, killing more than an estimated 1,200 people. It was a horrific attack on innocent people, and it should be condemned as such.
There is, of course, a decades-long conflict between Israelis and Palestinians, and violence is not in any way a new part of it. Still, this month's attack rightly captured the world's attention, and in the immediate aftermath, celebrities, companies, organizations, and entire countries pledged their support and solidarity with Israel and Hamas's victims. Great. Understandable.
I worry, though, that the anger directed at the perpetrators of the attack is quickly spreading to unintended and unwarranted targets. Muslims, as a whole, worldwide, are again being treated with fear and suspicion. Expressions of concern over the effects of the Israeli government's response on civilians in Gaza are being misrepresented in mainstream media outlets like the BBC did during broadcasts.
Yes, there are some people who are defending Hamas, and people should feel free to criticize them to their hearts' content. It's not fair and it's not helpful to lump supporters of Palestinian rights and critics of the Israeli response into that group, however. It degrades discourse and fuels the type of fear and paranoia that followed 9/11. It shouldn't be controversial to say that just as Israeli victims, many of whom were children and other civilians, should be mourned, so, too, should Palestinian civilians (which, yes, include a lot of children) who died (and may continue to die) in the response.
Over the weekend, I read a story about a 6-year-old Palestinian-American boy named Wadea Al-Fayoume. Joseph Czuba, the family's landlord, stabbed Al-Fayoume to death. According to reports, Czuba had become obsessed with the situation in Israel. His wife, Mary, told investigators that he "listens to conservative talk radio," which had been hyping up the conflict. From an NBC News report:
Czuba was screaming "you Muslims have to die" when he barged into the ground-floor apartment the mother and son shared in suburban Plainfield, family friend Yousef Hannon told NBC News before the funeral, citing texts she sent to the boy's father. Hannon said Czuba also shouted: "You are killing our kids in Israel. You Palestinians don't deserve to live."

Shaheen "didn't have even one percent suspicion he would hurt the child" because Czuba had been like a grandfather to Wadea and even built him a tree house, Hannon said.

"The child, when he saw Czuba, ran to him for a hug and instead was stabbed 26 times," Hannon said.

Wadea was pronounced dead at the hospital, after which a forensic pathologist removed a "military style knife" with a seven-inch blade from his abdomen, the Will County sheriff's office said in a news release.
How does someone go from building a child a treehouse and being "like a grandfather" to him to stabbing that same child 26 times? That's what I can't wrap my head around. And maybe this is all hitting me close to home because, well, it was close to home. I grew up in the southwest suburbs of Chicago, near Plainfield. My parents still live in the area, and I still visit the area semi-regularly.
I'm sure in the coming weeks and months we'll learn more about the circumstances of it all, but none of that will bring back the six-year-old boy, whose final moments must have been so unbelievably confusing and terrifying.
Likewise, there has been a spate of antisemitic hate crimes in the wake of the Hamas attack as well. Earlier this week, a Jewish school in London was vandalized, an Ohio man was arrested after screaming antisemitic threats at a woman through her doorbell camera, and someone threw a rock through the window of a California bakery along with a note threatening Jewish business owners.
If there's one thing that's needed right now, it's calm. I don't think it's likely we'll actually find calm, but it's needed. I am worried for Jewish people. I am worried for Muslims. I am worried for people who are mistakenly identified as Jewish or Muslim. I am worried that blanket hatred against entire groups of people is being elevated on social media and in the press. I am worried that we are once again being taught to treat our neighbors with undue suspicion and that bad actors in the media are all too willing to take advantage of these vulnerabilities for political and financial gain.
I am worried for humanity.
That's it for me today. Take care of each other, and don't let the politics of fear win.
Parker