Discover more from The Present Age
Parker Molloy's award-winning newsletter of cultural commentary and media criticism for a time of hyper-connected living.
Over 38,000 subscribers
Dear Coach's Corner
Can you really take politics out of sports without addressing the elephant in the room?
Hello, dear readers. Parker here.
This week, the horrific terrorist attack by Hamas, the international response, and the larger Middle East conflict are all hot topics. For the sake of staying closer to my own lane, I'm going to write about something a little different.
But first, let's get the "please subscribe" bit of the newsletter out of the way:
---
The Present Age is 100% reader-supported. To receive new posts and support my work, consider becoming a free or paid subscriber.
---
I was able to make it to just one Cubs game this year. It was a surprisingly toasty Sunday afternoon in late September, and the Cubs were facing off against the Colorado Rockies. It was also Sesame Street day at the ballpark. There was an Elmo bobblehead giveaway, there were Sesame Street versions of songs playing on the PA system (like this version of "Two Princes" by the Spin Doctors), and so on.
The 2023 season at Wrigley Field included Sesame Street Day, Star Wars Night, Hispanic Heritage Celebration, HBCU Celebration Night, Pride Celebration, NASCAR Night, Jackie Robinson Celebration, Boy Scout/Girl Scout Day, and more. If you follow pro sports to any real extent, you'll be familiar with these kinds of fun days that have less to do with the game and are geared more toward trying to bring in new fans and/or raise money for various causes.
Sometimes, players wear different hats. For instance, over the weekend between May 19 and May 21, all MLB players wore green Armed Forces Day caps, with sales of the apparel going to MLB's military-related charitable partners (read more about that at this link). On Mother's Day, they wear pink caps and jerseys, and on Father's Day, blue. The St. Louis Cardinals celebrate a "Christian Day at the Ballpark" every season, complete with some very Jesus-y and sometimes not-very-LGBTQ-friendly activities (one year, LGBTQ sports blog Outsports was outright denied a press credential to cover the event).
The same happens in other sports, too. You may have seen NFL players wearing pink in the month of October in past years as part of the league's Crucial Catch program.
Hockey is no different! Or, rather, hockey was no different.
Teams had theme events sprinkled throughout the year. Hockey Fights Cancer Night, Black History Night, Military Appreciation Night, Community Heroes Night, etc. Some were super local, like the Arizona Coyotes' Arizona State University Night. Canadian teams have held Indigenous Celebration Night and First Nations Night events.
Some issues are fun, some are serious, some have to do with identities, and some with professions. As you can see in the images below, many of these events involved players wearing special gear during warm-ups, which would be sold or auctioned off after the game to raise money for whatever issue they represented.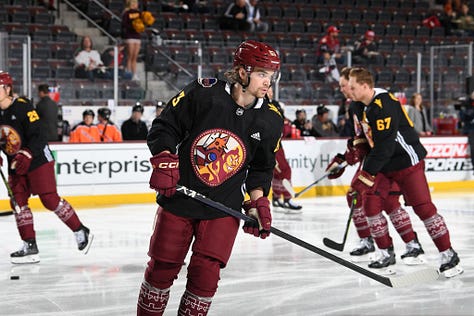 No longer.
After a handful of players (seven, specifically — yes, seven, out of the entire league) made a scene about not wanting to participate in Pride Night events last season, the NHL put an end to the tradition. See, it wasn't enough for the players to simply be allowed to not participate in pre-game activities. No, no. The argument quickly became about how if other players are all wearing the special Pride gear during warm-ups, then fans might notice which players aren't participating. To solve this "problem," the league implemented a ban on Pride jerseys in June.
Not content with simply banning jerseys, the league "clarified" that players would no longer even be allowed to make the individual decision to wrap their sticks with rainbow-colored tape during warm-up as a show of personal support for LGBTQ rights.
Here's what the league had to say, in part:
Players shall not be put in the position of having to demonstrate (or where they may be appearing to demonstrate) personal support for any Special Initiatives. A factor that may be considered in this regard includes, for example, whether a Player (or Players) is required to be in close proximity to any groups or individuals visibly or otherwise clearly associated with such Special Initiative(s).
Let's break that down.
Players shall not be put in the position of having to demonstrate (or where they may be appearing to demonstrate) personal support for any Special Initiatives.
Great. I'm all for that. If you don't want to wear a warm-up jersey to auction off for a cause you don't believe in, you shouldn't have to. I'm 100% on board with that, so long as it applies to all causes. If a player wants to opt out of Pride Night or Military Appreciation Night, they should be allowed to do that in peace, and journalists shouldn't badger them over it. Cool. But then…
A factor that may be considered in this regard includes, for example, whether a Player (or Players) is required to be in close proximity to any groups or individuals visibly or otherwise clearly associated with such Special Initiative(s).
This is the problem for me, and it goes beyond anything to do with Pride Nights. Professional sports are absolutely filled with compulsory political statements that players and fans (but especially players) are expected to participate in. Every professional league begins games with some variation of national anthems, military flyovers, and moments of silence for this issue or that.
This isn't apolitical. And when players have decided to opt out (see: Kaepernick, Colin), they've faced some pretty intense scrutiny and repercussions. You truly can't go, "Get politics out of sports! Get things unrelated to the game out of sports! Just play the game! Shut up and dribble!" without being a hypocrite unless you actually mean to get all politics out of sports, including military displays and national anthems. As expected, I haven't seen any of the people cheering on the NHL's ban on rainbow-colored tape and special pre-game jerseys call for an end to the playing of national anthems or salutes to the military (though, I imagine there will be some who are upset when they find out that the NHL's new policy also means that the green camo jerseys players would wear for Military Appreciation Night are also now a no-go).
The problem with "get politics out of…" statements is that so many things are "politics."
The Canadian band Propagandhi, one of my personal favorites, has a song called "Dear Coach's Corner," which was featured on the band's 2009 album Supporting Caste. It tackles the issue of compulsory patriotism and military worship that gets injected into sports. "Coach's Corner" was a segment during Hockey Night in Canada. The lyrics begin as a letter addressed to Ron MacLean, who co-hosted the segment from 1986 to 2019.
Dear Ron MacLean, dear Coach's Corner
I'm writing in order
For someone to explain
To my niece the distinction
Between these mandatory pre-game group rites of submission
And the rallies at Nuremberg

Specifically the function
The ritual serves in conjunction
With what everybody knows
Is, in the end, a kid's game
I'm just appealing to your sense of fair play

When I say she's puzzled by
This incessant pressure for her to not defy
Collective will and yellow-ribboned lapels
As the soldiers inexplicably rappel
Down from the arena rafters
Which, if not so insane, would be grounds for screaming laughter
Yes, I know that comparing salutes to soldiers and the singing of national anthems to the Nuremberg rallies is a bit dramatic — for a lot of people, at least. But I remember going to see Bulls and Bears games growing up and thinking it was strange that there were these moments where we all had to stand, take off hats, and put our hands on our hearts. I remember asking a relative why we had to do that and being told that it was like going to church. It was just something you did.
Growing up Catholic, my family would file into a pew, stand when we were supposed to stand, sit when we were supposed to sit, kneel when we were supposed to kneel, say, "And also with you," at the appropriate time, etc. You did those things because they were part of a ritual. But it felt odd for there to be rituals involved in sports, especially ones that have to do with something completely unrelated to the game being played. Even so, I took part in them (and still do) — not out of some burst of patriotism, but because it's habit.
Later in the song, singer Chris Hannah muses on the effects of this sort of idle and unthinking nationalism that we're asked to indulge in without question.
I guess it comes down to
What kind of world you want to live in
If diversity is disagreement, disagreement is treason
Well, don't be surprised if we find ourselves reaping

A strange and bitter fruit that sad old man beside you
Keeps feeding to young minds as virtue
It takes a village to raise a child, just a flag to raze the children
Until they're nothing more than ballast for fulfilling

A madman's dream of a paradise
Complexity, reduced to black and white

How do I protect her from this cult of death?
The "sad old man" being referred to in the song is Don Cherry, who was MacClean's Hockey Night in Canada co-host. Cherry was very open about his extremely conservative views, which he would inject into the broadcasts. Ultimately, Coach's Corner ended with Cherry's firing in 2019 after he refused to apologize for a racist anti-immigrant rant he made during a broadcast.
And, just thinking about the NHL's decision to limit how players are allowed to express themselves before games, I wonder if there will ever come a time when the sports world will acknowledge that it has never been apolitical. If the goal of banning Pride jerseys and rainbow tape is to avoid putting players "in the position of having to demonstrate (or where they may be appearing to demonstrate) personal support" for a political cause or belief, then why not reexamine the political views players are expected to demonstrate support for?
This is just a bit of food for thought and is not meant as a broader commentary on countries, patriotism, or militaries. I'd just like to see the hypocrisy of the "stick to sports" crowd addressed in a serious way. It won't be, of course, but one can hope!
That's it for me today. Unfortunately, the cold I thought I was getting over won't seem to leave my lungs. It's very annoying. Anyway, take care and stay healthy, everyone.
Parker
Without further ado, here's Propagandhi's "Dear Coach's Corner":