Discover more from The Present Age
Parker Molloy's award-winning newsletter of cultural commentary and media criticism for a time of hyper-connected living.
Over 38,000 subscribers
Hello readers and happy Friday. Parker here with the final edition of The Present Age for this week.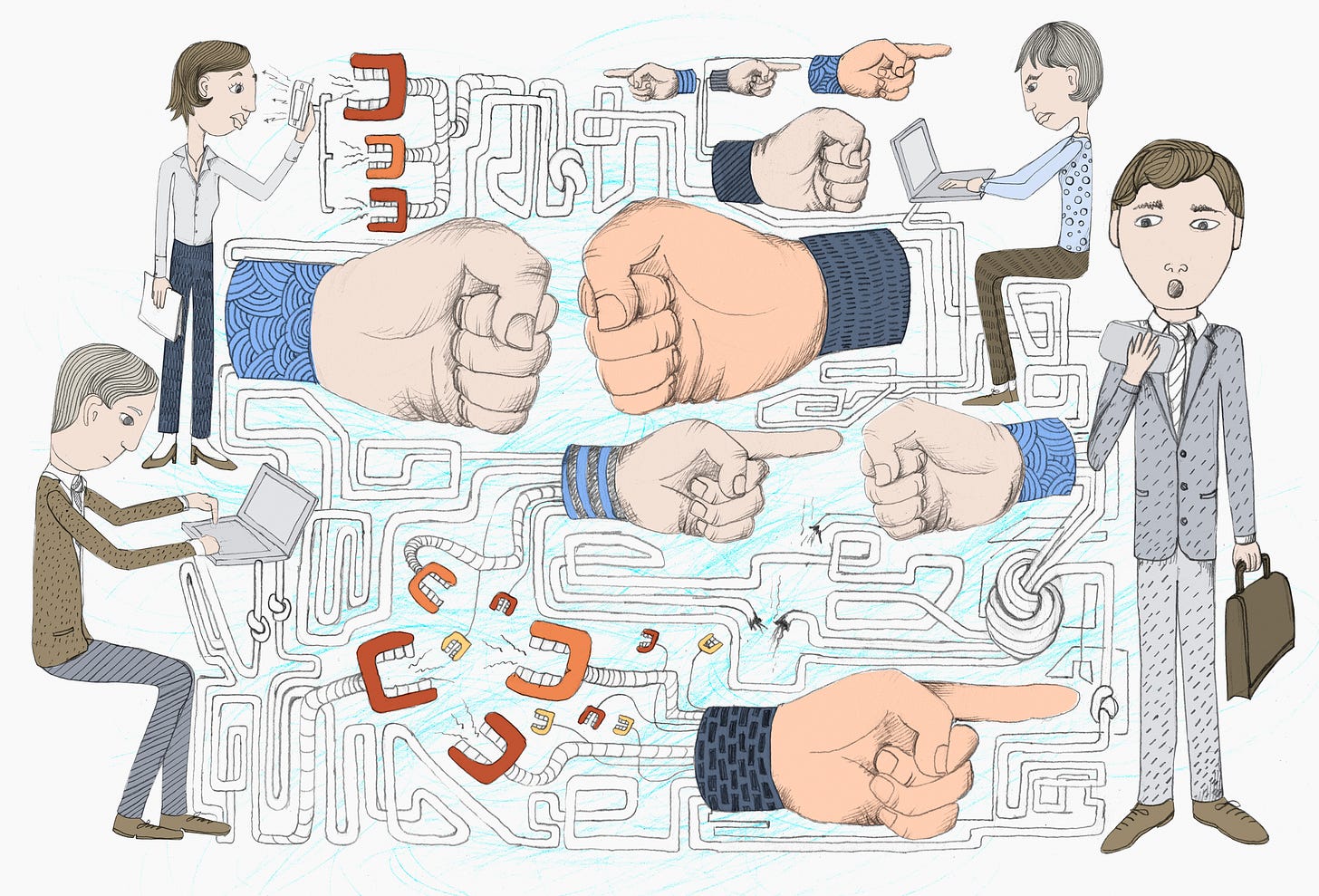 The latest edition of WNYC's On The Media had an interview with Sam Adler-Bell on "The Evolution of Opinions Online and 'Statementese.'" If you've got a spare 17 minutes, I recommend giving it a listen. And while you're at it, give Adler-Bell's recent piece in New York Magazine on the "War of the Statements" a read, as well. Both examine the ubiquity of public statements in the age of social media.
And if one thing has reignited the statement wars over the past few weeks, it's the ongoing war in the Middle East. I wanted to use today's newsletter to talk about public statements, why it seems like everyone from random people on social media to the highest echelons of corporate America are making them, and what they say about us.
But before I get into that, here's the obligatory "please subscribe to the newsletter and/or consider upgrading your subscription" ask:
The Present Age is 100% reader-supported. To receive new posts and support my work, consider becoming a free or paid subscriber.
There's a moment in the OTM interview where host Brooke Gladstone asks Adler-Bell why there seems to suddenly be so much pressure on people and organizations to issue public statements in response to world events. Adler-Bell points to the Black Lives Matter movement as a touchstone in understanding how we got to where portions of corporate America and academia feel the need to put out statements in response to world events.
Just days after Minneapolis police officer Derek Chauvin murdered George Floyd, reigniting the Black Lives Matter movement in 2020, the New York Times published a story about how everyone from Adidas to YouTube threw their weight behind BLM.
Floyd died with Chauvin's knee on his neck, where it had been for 9 minutes and 29 seconds. Floyd gasped for breath, and since the entire thing was on video, the whole world was forced to directly confront not just an act of unspeakable cruelty but a complete and total betrayal of Chauvin's duty as a police officer.
"Hey, it's probably not good for police officers to straight-up murder people on camera" is one of those things that should go without saying, and so I can see why the corporate world felt comfortable taking a side in this. And they did. The New York Times article spotlighted the substance (or lack thereof, in some cases) and style of the statements and ads that came out in the final days of May 2020.
From the article:
As tensions flared around the country after George Floyd's death under a policeman's knee, protesters received support from an unexpected corner: corporate America.

Companies like Nike, Twitter and Citigroup have aligned themselves with the Black Lives Matter movement.
I want to add some (hopefully) helpful context here. As I'm sure everyone remembers, 2020 was a very strange year for the world. Businesses around the globe had to make major adjustments to stay afloat during the society-disrupting pandemic. The world of marketing was no different.
On March 30, Fast Company published an article headlined, "'We're all in this together'? Why brands have so little to say in the pandemic." It's a really good piece with some really good points about advertising in unprecedented times.
"The world advertising typically reflects back to us — beautiful people in close contact, high-fives, fact-touching, and generally having good times in public — is a life that feels far, far away right now," reads a line from the article about the limits of our ability to suspend disbelief in advertising.
Even if most of the time that ad image was fake or at best highly idealized (has anyone ever had that much fun at an Applebee's?), the world being sold at least seemed in the broad realm of possible. Now what? You're gonna run an ad with the employee at the curbside takeout window looking like Dustin Hoffman in Outbreak, handing the to-go order to a driver with their mouth covered by a bandanna and wearing nitrile gloves and a cut-up trash bag around their body? Then she takes it home to her friends with everyone sitting in their isolated rooms enjoying their meals over Zoom? Nah. That's a wee bit dark.
Among advertisers who successfully refocused their ads in the early pandemic, their efforts tended to fall into three categories: "we're doing something," "we thought you should know," and "we're here for you."
Think about how often the marketing world told us, "We're all in this together" in March and April 2020. If I had to guess, I'd say that the fact that corporate America and the marketing world were in a state of panic related to the pandemic may have made their decisions to take a stand on things like Black Lives Matter a bit easier. But that's just a guess.
And it's worth highlighting that, yes, public statements unrelated to businesses' core work obviously predate the BLM movement. Some companies got involved with the #MeToo movement, for instance. Plus, you've got things like hurricanes and other natural disasters that would bring out the PR-speak, as well. But it really does seem like there are more of them these past few years.
None of this is to say that it's good or bad to put out statements of support for causes or in response to world events, but that it's an understandably thorny topic that's mostly the result of the hyperconnectivity brought to us by the internet and social media. Again, this isn't inherently good or bad.
Adler-Lee makes this point during the OTM interview:
Something to keep in mind about this is that 10 years ago, 15 years ago, if you wanted to know what a university thought about a particular political event or international tragedy, or if you wanted to know what the New York Mets thought about some war going on in the world, you'd have to call the New York Mets as a reporter or the New York Mets would have to pay for a ad in the New York Times, more than have to have a press conference, which would all be very confounding to all of us because why does the New York Mets have an opinion about this anyway? Now because of the internet, anybody can find these statements and people can demand that these statements come out.
That's an interesting way to think about this, and I think it's worth noting that it's not just businesses or academic institutions, celebrities, or politicians being asked for statements.
Last month, the brilliant comic writer and artist Mattie Lubchansky wrote, "Don't know how this happens every time, but the hyper-focus on Who Condemns What is just crazymaking," to which writer Zachary Siegel responded, "Feels symptomatic of this idiotic age where every single person is [a] brand with their own audience unto themselves."
I agree! Every so often, there will be some breaking news that I feel I should have an opinion on, but don't know enough about the issue to say anything meaningful. Some writers will dive head-first into this, immediately presenting themselves as experts. Everyone jokes about how people on social media will bounce from being experts on virology during the pandemic to being experts on the conflict in the Middle East over a day. For independent writers and newspaper columnists, that sort of unearned and misplaced confidence is how many make a very comfortable living. Go look at the Substack politics or culture leaderboards, and you'll see that there are a whole lot of people making bank by positioning themselves as experts of the day.
Generally, I'm pretty uncomfortable positioning myself as an expert on anything outside of media, baseball, and my own experience as an LGBTQ person. Anything I'd have to say on many issues outside of those contexts would come off as uninformed or insincere. And when I'm uninformed, I do try to keep my mouth shut. The last thing I want to do is to come off as someone simply saying something just for the sake of saying it.
Adler-Bell asks listeners to the OTM interview to imagine "your uncle Dean putting out a statement that says, 'While I, of course, condemn X, I also feel that Y,' or some stranger on the internet who says, 'Two things can be true at once.' It's a really strange compulsion as if we're living our lives operating as if we ourselves are a brand with brand consultants and crisis managers telling us how not to upset too many of our followers, our friends, and family."
This brings me back to a book I read recently. Naomi Klein's Doppelganger: A Trip into the Mirror World is fantastic, and one of the most thought-provoking parts of the book is a reflection on her 1999 book No Logo: Taking Aim at the Brand Bullies, which dealt in part with how large companies such as Nike, Wal-Mart, and Starbucks use feel-good branding and skin-deep advocacy to stake out positions to endear themselves to the public and hide its less-than-positive contributions to the world (see: Nike's use of sweatshops).
Weapons manufacturer Lockheed Martin makes a good portion of its money by developing and producing missiles that have been used to kill an untold number of people. Still, they love to highlight, for instance, that they regularly achieve a perfect score on the Human Rights Campaign's Corporate Equality Index for LGBTQ employees. And while it's certainly a good thing for companies to adopt benefits and nondiscrimination protections for LGBTQ employees, the underlying motives are suspect. It's up to individuals to determine whether motives matter to them.
In No Logo, Klein detailed how companies would throw around corporate sponsorship money to effectively silence dissent on college campuses.
In May 1996, students and faculty at the University of Wisconsin at Madison did find out what was in the text of a sponsorship deal their administration was about to sign with Reebok —and they didn't like what they discovered. The deal contained a "nondisparagement" clause that prohibited members of the university community from criticizing the athletic gear company. The clause stated: "During and for a reasonable time after the term, the University will not issue any official statement that disparages Reebok. Additionally, the University will promptly take all reasonable steps necessary to address any remark by any University employee, agent or representative, including a Coach, that disparages Reebok, Reebok's products or the advertising agency or others connected with Reebok." Reebok agreed to nix the demand after students and faculty members launched an educational campaign about the company's patchy record on labour rights in Southeast Asia. What was exceptional about the Wisconsin clause is that the university community found out about it before the deal was signed. This has not been the case at other universities where athletic departments have quietly entered into multimillion-dollar deals that contained similar gag orders. The University of Kentucky's deal with Nike, for instance, has a clause that states that the company has the right to terminate the five-year $25 million contract if the "University disparages the Nike brand... or takes any other action inconsistent with the endorsement of Nike products." Nike denies that its motivation is to stifle campus critics.

Regardless of the intentions when the deals are inked, the fact is that campus expression is often stifled when it conflicts with the interests of a corporate sponsor. For example, at Kent State University —one of the U.S. campuses at which Coca-Cola has exclusive vending rights — members of the Amnesty International chapter advocated a boycott of the soft drink because Coca-Cola did business with the since-ousted Nigerian dictatorship. In April 1998, the activists made a routine application to their student council for funding to bring in a human-rights speaker from the Free Nigeria Movement. "Is he going to speak negatively about Coca-Cola?" a council member asked. "Because Coca-Cola does a lot of positive things on our campus like helping organizations and sports." The representatives from Amnesty replied that the speaker would indeed have some negative comments to make about the company's involvement in Nigeria and funding for the event was denied.
My point in bringing this up is that it's not as though companies can actually have deeply held beliefs. Business is business. Just look at how quickly Target did a 180 on LGBTQ issues after conservatives terrorized store employees over the summer. More than a decade of waving around its annual "Take Pride" collection as evidence of its pro-LGBTQ company beliefs. Now that's been massively scaled back as anti-LGBTQ sentiment rises.
As companies, Coca-Cola doesn't care about whether Roe v. Wade was overturned, Nike doesn't care about gun violence, Starbucks doesn't have a true belief about the war in the Middle East, and Comcast doesn't have a belief about whether or not fascism is good or bad. Companies can't actually believe or care about things. Individuals at those companies can, and they can shape policy and communications decisions, sure. But corporations in and of themselves? No. In the end, most companies' public statements are business decisions in support of the almighty Brand Image, and nothing more.
It's easy to get cynical about all of this. And over the past few weeks, the war over public statements has only increased my feelings of cynicism (trust me, I'm trying not to fall into that!). It seems like people have a checklist of points they want made that reaffirm their personal views on an issue. "Did this person condemn Hamas? What about civilians in Gaza? Did they properly contextualize a centuries-old geopolitical dispute in 280 characters, the same way I would have?" It's exhausting because sometimes it really seems like people are more worried about saying the right things, or at least whatever they think other people will think are the right things, rather than trying to be empathetic.
For me, the trouble with statements is that they often don't actually state much at all.
That's it for me this week. As always, thanks so much for reading and subscribing to the newsletter. I'll be back next week with some more stuff for your inboxes.
Parker