Discover more from The Present Age
Parker Molloy's award-winning newsletter of cultural commentary and media criticism for a time of hyper-connected living.
Over 38,000 subscribers
Hello readers,
If you've been reading this newsletter long (or even as recently as last week), you know that I love baseball. It's my favorite sport. And if you've been following this newsletter slightly longer (or as recently as last Tuesday), you know that media criticism is kinda my thing. Today's newsletter gives me the chance to combine the two.
But first… here's where I ask you to consider subscribing:
---
The Present Age is 100% reader-supported. To receive new posts and support my work, consider becoming a free or paid subscriber.
---
The Atlanta Braves and Philadelphia Phillies faced off last week in the National League Division Series. The second game of the best-of-five series ended with Phillies superstar Bryce Harper getting caught in a double play, tying the series at one game each. It was a thrilling end to a great game.
Fox Sports MLB analyst Jake Mintz published a story afterward, giving an inside story on the Braves' "unbelievable" comeback victory. At the tail end of the article, Mintz detailed the postgame atmosphere inside the Braves locker room:
While Riley's blast flipped the score, Harris' outrageous snag and Harper's consequent blunder was the talk of Atlanta's locker room after the game. Kevin Pillar's young son, sporting a custom "Money Mike" headband, waddled over to his favorite center fielder for a fist bump. Third-string catcher Chadwick Tromp strutted by Harris' locker offering a congratulatory "Mike is him!" All while Braves shortstop Orlando Arcia cackled emphatically about Harper's misfortune, bellowing "ha-ha, atta-boy, Harper!" repeatedly as reporters circled the room.

One could only imagine the energy in the road locker room was decidedly less celebratory. The Phillies journey home with a split, a positive outcome all things considered, but they will look back on this game with heavy eyes. It will stick in their collective craw. They left 11 runners on base, wasting multiple opportunities to grab hold of the game, and with it, the series.
Harper responded by blasting two massive home runs in Wednesday's 10-2 Game 3 rout of the Braves. As he rounded the bases, Harper stared down Arcia. Atta-boy, indeed.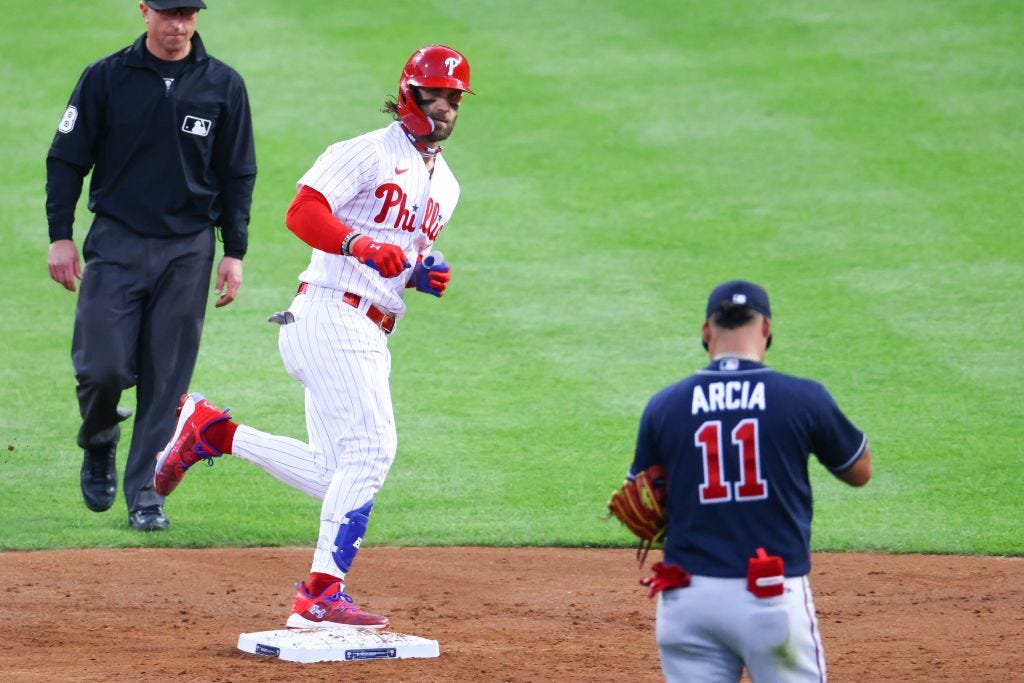 These are the storylines that make sports fun! A guy talks trash, the target of the trash talk uses that as fuel. You know, the thrill of victory! The agony of defeat! The human drama of athletic competition!
Anyway, a bunch of people got
big mad
at Mintz and Fox Sports for that story.
The argument seems to be that Arcia "cackl[ing] emphatically about Harper's misfortune, bellowing 'ha-ha, atta-boy, Harper!' repeatedly as reporters circled the room" should have been considered off the record and not reported on. For… some reason.
MLB Network — which is quite literally owned by the league — came out firing. Commentator Alanna Rizzo ranted about the clubhouse being a "sacred space" and argued that Mintz's reporting was harming "true journalists," who, it seems, she believes wouldn't report such a thing.
Toronto Blue Jays pitcher Kevin Gausman weighed in on this in two posts on the platform formerly known as Twitter, writing, "It's ridiculous us players have to watch what we say in OUR clubhouse," and following it up by saying that journalists "should not be allowed to quote a player or say you heard something like this in a clubhouse when you — the reporter — are not talking to that player."

And, just to get a tiny jab that I can't resist making out of the way, I'll say this: Kevin! What clubhouse? You and the Blue Jays got swept by the Twins! You should remember because you got lit up for three runs (with two of them being homers) in just four innings in Game 1 of your series!1
But this is just not how journalism
is supposed to
work. This
is
how
access journalism
often does work, however.
Let's put this in some important context: there are places in clubhouses and times where the press is not allowed. Players can say whatever they want in those places and during those times with relatively little worry that it'll wind up in the newspaper (the exception being if someone else in the organization leaked it). But that's not what this was. This was part of the postgame celebration, a thing that is sometimes broadcast on TV. If a player or a coach says something newsworthy, a reporter can and should report it.
What I find interesting about all of this is how some of the reactions, like Rizzo's, seem to hinge on the idea that reporting on the things athletes say will jeopardize journalists' access to those sorts of spaces in the future. This, my friends, is one of the perils of access journalism.
If postgame access to the clubhouse is contingent on journalists keeping teams or the league happy, journalists will pull punches, omit unflattering quotes, and act less as fact-finders whose obligation is to the public/fans, and is instead focused on keeping teams/players/the league happy. Understanding how this works in the world of sports is crucial to understanding how access journalism fails us on other, consequential subjects like politics and business.
MLB Network is owned by Major League Baseball. As such, what you see on MLB Network will be pro-MLB. For the most part, that's fine. You're probably watching it because you're a fan. But what about when there's something like a players' strike? Can you trust the league-owned media outlet to give you the straight story? It's a difficult and ethically complicated question.
Looking at another recent controversy, there's the August suspension of Baltimore Orioles play-by-play broadcaster Kevin Brown. Before a July 23 game against the Tampa Bay Rays, Brown commented on how good the Orioles had been playing compared to recent history.
It's been a minute [since the Orioles have had success on the road against. the Rays]. The Orioles split a two-gamer with the Rays in June. They had lost their last 15 series here at Tropicana Field. You have to go back to when our now-colleague Brad Brach picked up the win in the series finale June 25, 2017 — the last time the Orioles won a series here in St. Pete.

Already gone 3-2 at the Trop this year after winning three of 18 the previous three years combined.
It wasn't even a negative comment about the team! It was positive. Still, his employer, the team, was apparently upset that he had dared to mention past struggles. In response to pushback from fans and other members of the press, the Orioles lifted Brown's suspension. Still, it should worry people that teams and media organizations wield this sort of power.
Using the fear of revoked access or fear of employer retaliation to keep journalists in line can lead aspiring reporters to self-censor. Eventually, the people who have elevated positions in these industries are often the ones who feel less of a moral or ethical obligation to offend the people and organizations they cover. It's bad, whether you're talking about something relatively inconsequential (baseball) or massively important (covering governments, massive businesses, and other people in positions of power).
That's it today. Thanks for reading, all!
Parker
1
I'm just joking around. Poor Game 1 performance aside, Gausman is a very good pitcher. And anyway, he gets the last laugh here because he made $21 million this year, and I make my living by asking people to give me $6 per month. I just think he's wrong about the role of the press here.